Sacre bleu!! ..... Surely not another over-rated Chelski ponce getting caught up in an unprecedented act of dumbness? Yap, brave Eden Hazard got his little French self sent off last night for, erm, kicking a young Swansea ballboy in the, erm, balls(see gif below)!
Eddy really should've pick on someone his own size! ... Erm, perhaps he did!
At least he'll have a nice long holiday to reflect upon his petulance after a few bans get imposed!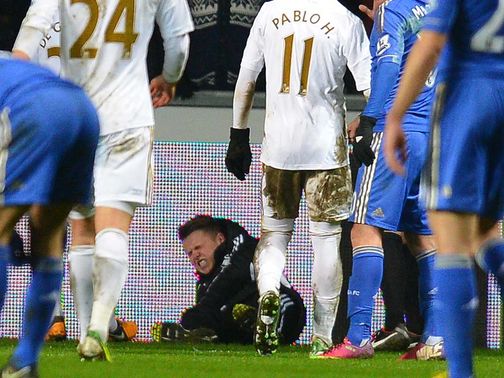 Ballboy in ecsta

cy,

having met his hero Hazard
Eden Hazard will not face criminal charges after appearing to kick a ball boy during Chelsea's Capital One Cup semi-final second leg tie at Swansea, both clubs have confirmed.
The astonishing incident, the latest to blight Chelsea's season, happened with just over 10 minutes remaining of the tie, which the Blues lost 2-0 on aggregate.
The game was goalless on the night and Hazard lost patience when the ball boy refused to hand over the ball after it had gone out of play for a goal-kick.
The ball boy fell to the ground as Hazard attempted to get the ball from him with the Blues forward then trying to kick it from under him but instead he appeared to make contact with the youngster.
Several Chelsea players went to tend to the ball boy, who was left holding his ribs, before referee Chris Foy produced a red card.

The ball boy was quickly ushered away from the tunnel area after the final whistle having been interviewed by police officers.

A Swansea spokesman confirmed no action would be taken, and that Chelsea had invited the 17-year-old, who has been a ball boy at the Liberty Stadium for six years, into their dressing room.
He said: "The police have interviewed the boy and his father and there are no charges going to be pressed, as far as they are concerned that is the matter closed.

(sportinglife.com)